Onsite Wastewater Training Center
Grand Opening
On July 24th 2003 the Tennessee Onsite Wastewater Training Facility had its grand opening. In attendance were about seventy-five engineers, wastewater managers, community planners, environmentalists, and regulators. The facility will serve as a the flagship location for a statewide program on proper onsite treatment of wastewater. The CDWM hopes to begin training sessions as soon as this fall.

Seventy-five attendees begin the tour of the training center at the conventional gravity displays.

Leanne Whitehead of TVA and Brian Corwin of the Tennessee Onsite Wastewater Recycling Association (TOWA) discuss different filtering technologies.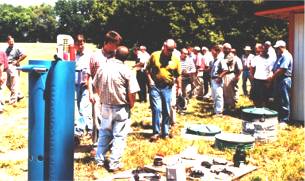 Attendees peruse equipment that is on display.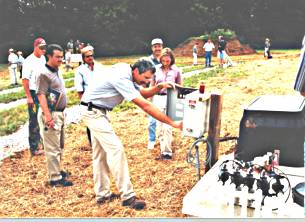 Dr. John Buchanan operates the drip dispersal control panel.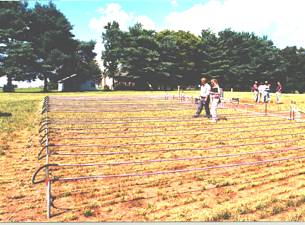 Viewers are able to walk freely through the displays. Just as the people inspecting the drip lines above.
Tour the Center